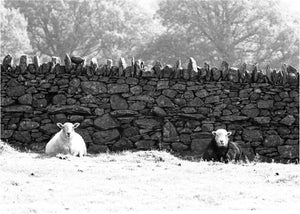 While hiking in the Lake District of England my wife and I came upon this peaceful scene of two sheep at rest. The fields and narrow roads of the district were lined with beautifully constructed stone walls that served to separate the sheep farms. The resulting vista appeared as a patchwork quilt of fields and walls. The Lake District is part of the county of Cumbria, a mountainous region of Northwest England. It consists of 2,300 square kilometers and was purchased and protected by the National Trust in 1951. For decades the Lake District has been home to multitudes of famous poets, writers and artists. Chief among them was the poet William Wordsworth and Beatrix Potter, writer, illustrator, naturalist and conservationist, who upon her passing donated 4,000 acres and 14 sheep farms to the National Trust. Jane and I had the good fortune to stay at one of these farms which was being managed by a tenant farmer and run as a bed and breakfast. It was a delight to watch the resident border collie herd the sheep in the pasture.
Image available in 8"x10" archival prints, mounted on a white 14"x16" acid-free board and mat, ready for framing. All prints are signed and enclosed in a protective acetate sleeve.

$65 includes shipping.